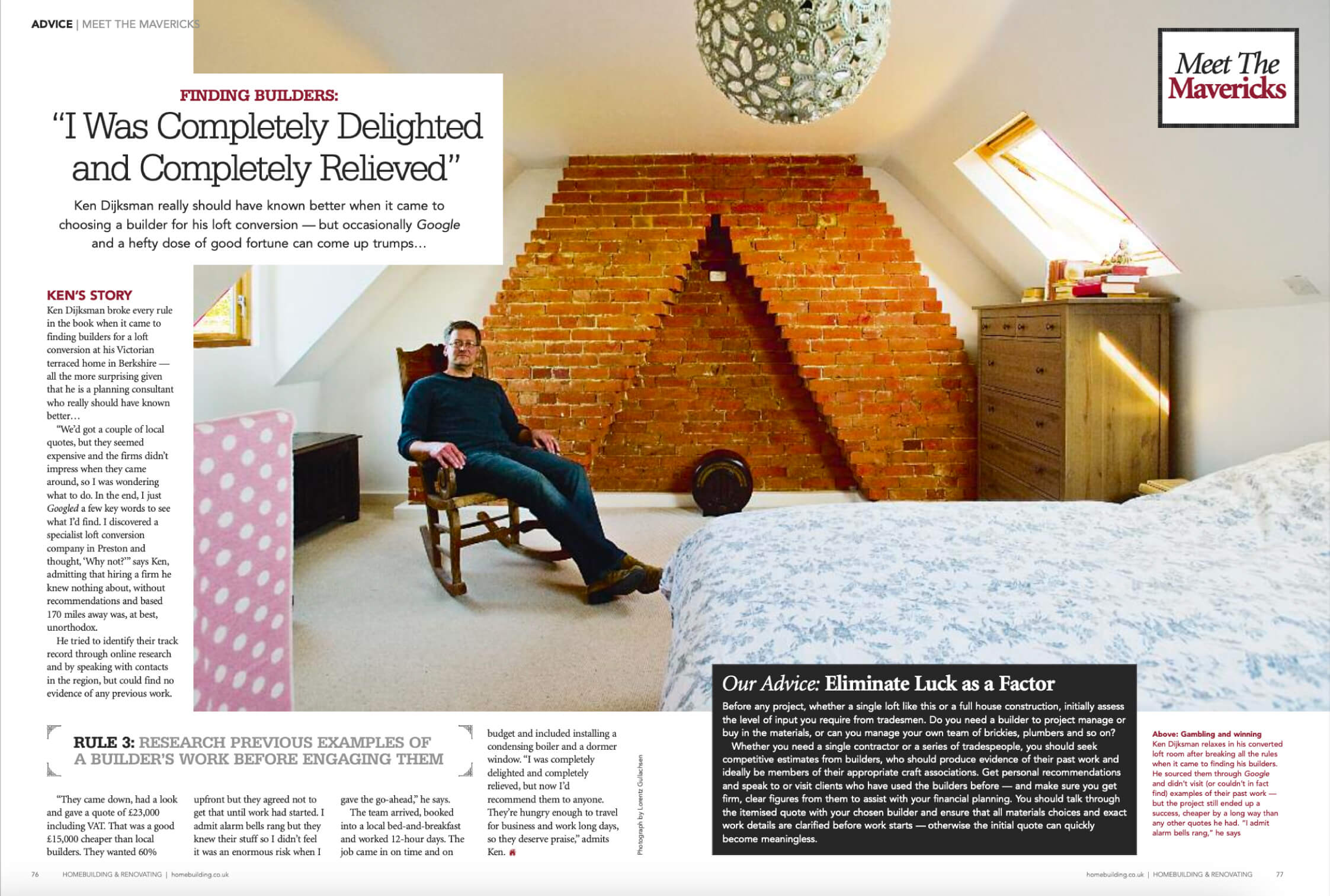 Home Building & Renovating Magazine Feature
KEN'S STORY
Ken Dijksman broke every rule in the book when it came to finding builders for a loft conversion at his Victorian terraced home in Berkshire — all the more surprising given that he is a planning consultant who really should have known better…
"We'd got a couple of local quotes, but they seemed expensive and the firms didn't impress when they came around, so I was wondering what to do. In the end, I just Googled a few key words to see what I'd find. I discovered a specialist loft conversion company in Preston and thought, 'Why not?'" says Ken, admitting that hiring a firm he knew nothing about, without recommendations and based 170 miles away was, at best, unorthodox.
He tried to identify their track record through online research and by speaking with contacts in the region, but could find no evidence of any previous work.
"They came down, had a look and gave a quote of £23,000 including VAT. That was a good £15,000 cheaper than local builders. They wanted 60% upfront but they agreed not to get that until work had started. I admit alarm bells rang but they knew their stuff so I didn't feel it was an enormous risk when I gave the go-ahead," he says. The team arrived, booked into a local bed-and-breakfast and worked 12-hour days.
The job came in on time and on budget and included installing a condensing boiler and a dormer window. "I was completely delighted and completely relieved, but now I'd recommend them to anyone. They're hungry enough to travel for business and work long days, so they deserve praise," admits Ken.
Our Advice: Eliminate Luck As A Factor
Before any project, whether a single loft like this or a full house construction, initially assess the level of input you require from tradesmen. Do you need a builder to project manage or buy in the materials, or can you manage your own team of brickies, plumbers and so on? Whether you need a single contractor or a series of tradespeople, you should seek competitive estimates from builders, who should produce evidence of their past work and ideally be members of their appropriate craft associations. Get personal recommendations and speak to or visit clients who have used the builders before — and make sure you get firm, clear figures from them to assist with your financial planning. You should talk through the itemised quote with your chosen builder and ensure that all materials choices and exact work details are clarified before work starts —otherwise the initial quote can quickly
become meaningless.