Celotex
Celotex GA4000 is a general purpose insulation board for floors, walls and roofs. It has long been at the heart of the Celotex product range providing the user with a range of thermal insulation solutions.
With low emissivity foil facings, GA4000 is manufactured from rigid polyisocyanurate (PIR) using a blend of blowing agents that have zero ozone depletion potential (zero ODP) and low global warming potential (GWP).
With Celotex GA4000 you are specifying an insulation board that:
Is suitable for use in a number of applications including roof, wall and floor systems
Comes in thicknesses ranging from 50mm-100mm
Is easy to cut and shape
Includes low emissivity foil facings giving improved thermal insulation
Performance within cavity air spaces:
Provides reliable long-term energy savings for buildings
Is available in a standard board size of 1200mm x 2400mm
Applications
Celotex GA4000 can be specified for use in a variety of applications including:
Pitched Roofs
Flat Roofs
Solid Masonry Walls
Timber Framed & Steel Framed systems
Floors
Specification Clause
The insulation shall be Celotex GA4000 ________mm thick comprising a polyisocyanurate rigid foam insulation core, with a thermal conductivity of 0.022W/mK and low emissivity aluminium foil facings on both sides. GA4000 is A+ rated when compared to the BRE Green Guide 2008 and is CFC/HCFC free with zero ODP and low GWP. CE marking compliance to BS EN 13165:2001 and manufactured in accordance with quality management systems BS EN ISO 9001:2000 by Celotex Limited. All products must be installed in accordance with instructions issued by Celotex Limited.
Physical Properties
Compressive strength Dimensional stability Water vapour resistance Thermal conductivity Surface spread of flame
Method
BS EN 826
BS EN 1604
BS EN 12086: Method B BS EN 12667
BS 476-7
GA4000
≥120kPa
DS( TH)8
>150 MNs/g
0.022 W/mK
Class 1 (50mm – 90mm only)
Typical U-values
U-values will vary depending on application. To calculate a specific U-value, please refer to our online U-value calculator at celotex.co.uk
Installation Guidelines
Installation of Celotex GA4000 will depend on application type. For full details of the installation of Celotex GA4000, please refer to the 'application' pages of the website at celotex.co.uk and select the application of interest.
Further Information
If you wish to contact Celotex, please visit celotex.co.uk and click on the 'contact us' page.
For information regarding storage, installation and handling of Celotex products, or for Health & Safety advice, please refer to to the 'literature' pages of the website at celotex.co.uk
Celotex has a policy of continuous product development and reserves the right to alter product designs or specifications without prior notice.
SuperQuilt
NHBC Acceptance
Meets requirements of L1A and L1B 2010 addition
In accordance with BR443
Thermally tested in accordance with EN16012
High thermal resistance of 2.50m2K/W
Fast and simple installation
Tear Resistant
For pitched roofs between 20O and 70O insulation thermally tested in accordance with EN16012 side of the material.
Under Joist Flat Roof
Installation of SuperQuilt for under joist fat roof applications and additional insulation products should be in accordance with the manufacturers certificate, fixing instructions and current good building practice.
SuperQuilt should be overlapped at each joint by approx 50mm and stapled onto the joists, the joints should be sealed using YBS Foil Tape When SuperQuilt is cut to fit around openings or connections, gaps must be minimized and any exposed cut edges should be sealed with YBS Foil Tape to prevent condensation
SuperQuilt should be cut equal to the width of the roof section plus 100mm. Installation should start from the external wall with SuperQuilt being unrolled perpendicular to the joists, after which it is fixed using staples, nails or YBS saddle clips.
SuperQuilt should be held in place using timber battens or by other means as shown, in such a way that there is a
nominal 25mm air cavity above the product (if applicable) and a nominal 25mm air cavity below To minimize the effect of thermal bridging cross battening is advised
When installed below joists SuperQuilt will perform as a vapour barrier.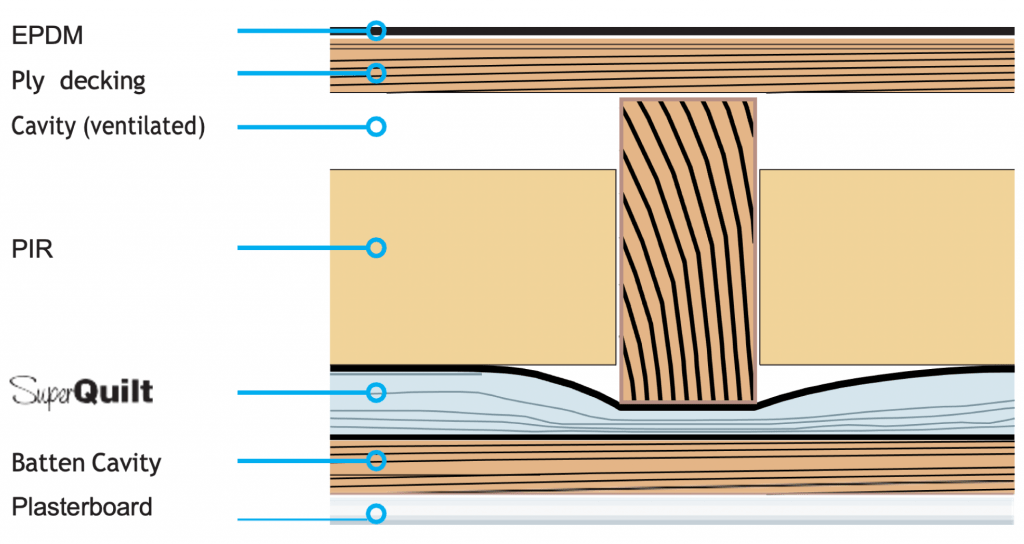 | | |
| --- | --- |
| Description (joists at 400mm centres) | U-Value |
| SuperQuilt and 1 0mm Mineral Wool (0 040 W/mk) | 0 18 W/m2k |
| SuperQuilt and 210mm Mineral Wool (0 040 W/mk) | 0 15 W/m2k |
| SuperQuilt and 140mm Mineral Wool (0 033 W/mk) | 0 18 W/m2k |
| SuperQuilt and 180mm Mineral Wool (0 033 W/mk) | 0 15 W/m2k |
| SuperQuilt and 100mm P R (0 022 W/mk) | 0 18 W/m2k |
| SuperQuilt and 135mm P R (0 022 W/mk) | 0 15 W/m2k |
| Description (joists at 600mm centres) | U-Value |
| SuperQuilt and 150mm Mineral Wool (0 040 W/mk) | 0 18 W/m2k |
| SuperQuilt and 200mm Mineral Wool (0 040 W/mk) | 0 15 W/m2k |
| SuperQuilt and 125mm Mineral Wool (0 033 W/mk) | 0 18 W/m2k |
| SuperQuilt and 170mm Mineral Wool (0 033 W/mk) | 0 15 W/m2k |
| SuperQuilt and 90mm P R (0 022 W/mk) | 0 18 W/m2k |
| SuperQuilt and 120mm P R (0 022 W/mk) | 0 15 W/m2k |